ABBA THE ALBUMS-
MICHAEL B. TRETOW -AN INCOMPLETE DISCOGRAPHY!?$$???
Michael Bo Tretow, born in Norkopping, Sweden on August 20, 1944, was ABBA's inventive and good humoured bearded engineer on all of their albums- he also has worked with each of the ABBA members outside of ABBA. He is credited with developing "ABBA's "Wall of sound" technique. Micke also has worked as a producer on his own and he has recorded on occasion, Most of solo recordings appear to be novelty records of humourous music....
Micke also has worked with amongst others-Ted Gardestad, Pugh Rogefeldt, Lill Lindfors, and Big Money....MICKE is perhaps the best liked person in all of ABBADOM..., after Frida of course.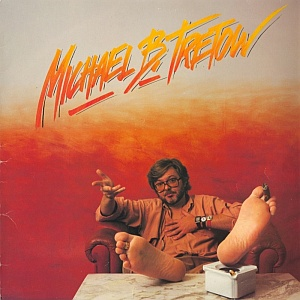 Michael! Cover

Some of his best known albums are reviewed below:
---

Michael B. Tretow -4X Tretow Swedish EP 1966
This extended play vinyl record is mentioned in Carl Magnus Palm's -ABBA -The Complete Recording Sessions book--as being Michael's first recordings. Michael also released a single done as the act Mikael & Michael ,and started his record engineering career working at Metronome Studio in Stockholm, Sweden. The job at Metronome is where he would first work with members of ABBA.
Michael B. Tretow -LET'S BOOGIE Swedish LP September 1976 (Released on CD January 1999)
The first solo album by Micke, released after ABBA broke big internationally.
This album is famous for featuring all of the members of ABBA and their band in the roles
of sideman to the incredibly silly -Michael B. Tretow. This is a funny album.
The albums' title implies that this is a disco album but it's not-it's an album of humourous novelty/ songs partly inspired by singers like the Coasters. Agnetha, Björn , Benny and the Abba band play on this album and Agnetha, Frida and Karin Glenmark sing backing vocals. Of the tracks -Paper Dolls sounds the most like a actual normal pop song...."Robot Man' has some cool backing vocals by Frida, Karin Glenmark and Marita Horn.. "Moonbeams" actually features Agnetha on piano..
The album's main flaw is that Micke doesn't have a great singing voice, and sometimes his great backing vocalists are not fully utilized.
Micke could have probably had Agnetha & Frida, hell, even Björn sing lead on a few of the songs, but the backing vocal are still quite interesting and Micke leads are usually funny... Until it's recent and much belated release on CD ,this album had been one of the rarer and most interesting ABBA collectibles..
Hey Micke, What's the B stand for anyway??? ((Addendum-somebody wrote in to inform me that the B. stands for Bo.)

This was originally released on LP in 1976 in Scandinavia and Britain. Until it's and much belated release on CD in 1999 , this album had been one of the rarer and most interesting ABBA collectibles..It was It appears that the CD maybe out of print already.
Lets Boogie* / Paper Dolls / Robot Man / Bottom Coming Up / Brief Intermission / Moonbeams / I Can See What You Mean / That's the Way the Cookie Crumbles / Sandwich / Hesitating Hanna / Brief Intermisson / Keep Your Hands to Yourself / Doc McGurgles etc. / Buy Buy Buy* / He Can´t Sing/
*Bonus previously unreleased tracks...
Michael B. Tretow -Michael B.Tretow 1983 Swedish CD.
A self named album with a photo of Michael's on the cover.!!! (See illustration above) The cover looks almost normal really. This was released on his own label Trash Records..
1. ELITGYMNASTEN by Alex Latex 3.13 /2. FAT IS BEAUTIFUL
by Smack, Dab and The Middle 5.20 /3. VAGGVISA, ALT 1
by Rune Uno 0.23 /4. ONKEL LOBERT OCH SMÅTTINGARNA
by Onkel Lobert 1.43 /5. FIPPELIN by Fia fippelin 0.57
6. SÖNDAGSMORGNAR by Dr Walter Wollter 1.33
7. HOS HALSLÄKAREN by Ragnar Röök 2.503
8. DANSKAVALJEREN by Sune Thulo 0.47
9. LÖRDAGSKVÄLL PÅ DISCOT by Ralph & Rolph 0.53
10. KÄFTEN, DU by Jukebox-Jokke 4.09
1. SOVJETISK MODESHOW by Falstaff Tapir 3.51
2. VAGGVISA, ALT 2 by Rune Uno med Drak-Ulla 0.13
3. ROLF ROYCE's TV-SKIVA by Rolf Royce 3.18
4. BLACK CHRISTMAS by Dolby's Spelmanslag 2.08
5. EN DAG I STUDION by Stefan Demo 6.28
6. MORGONSTÄMNING by Ulrika och Dom Fattiga 0.57
7. ÅBY FOLKETS PARK -59 by Agaton Megaton 4.44
Track listing from Elmar's Abba site....
Caramba-Caramba 1981 Swedish LP
This is another novelty Michael Tretow related album, this album has no ABBA involvement though Caramba features ABBA protege Ted Gardestad prominently....The hit here was " Hubba Hubba Zoot Zooot". This song is a cult favorite even outside Scandinavia.... Many of songs on this record mimic the music of various places like Hawaii or Russia....The song "Aitho", almost sounds like it has Frida singing on it, but she is not singing on it..that it is the high voiced Ted Gardestad....
BLAZTAH 1 (Side A): Ali Baba, Spottnjik, Hubba Hubba Zoot-Zoot , Eine Feine, Fido BLAZTAH 2 (Side b) Aitho, Anna Kapoae, Donna Maya, Ahllo, Carhumba
(this track listing from Anders in Stockholm from ABBAmail or ABBA the site, one of those ABBA sites.......)
Michael B. Tretow- Tomteland 1985 Swedish LP
This album is a spoken word album featuring only people named Tom,, oops no, actually I have no idea what it is about...,but I believe it's music for kids..
Michael B. Tretow - Makalosa Manickar 1986 Swedish LP
This album is not about man-cars...it's another novelty album where Mike plays the part of different imaginary recording acts on each of the songs....The album was released by CBS Sweden..Den Makalösa Manicken was rewritten by Per Lindberg to became song poular with Swedish computer hackers..
Den Makalösa Manicken by Professorn (4:39)
Lugn Och Ro ( Cappuchinio Sr ( ,2:14)
Grabben Av Marsipan by Putte Punch(1:30)
Tutti Frutti by Frank Furt (3:01)
Stereo by Lundin & Blom (2:14)
Telefånen by N. Ericson,(4:51)
Kvalitetsauktionen by Gary Tjajkowski(1:20)
Tuppilanarossoss by Harry Honda Jr. (0:37)
Det Var Bättre Förr by Jämmer(3:53)
En Musikalisk Resa by The Bloody Busters (7:07)
Boris "Rått Au Vin" by Boris Zparric (6:37)
You Broke My Heart by THE RED HOT DOGS (3:23)
Michael B. Tretow -Hystereo Hi-lites 1989 Swedish CD
This is an album based on a radio program that Michael did........
TrackListing 1. Hystereo 2. Ett Besök På Riksmixningsverket 3. Dyng-Christer På Stacken 4. Näktergalen I Den Grå Kostymen 5. Musik I Kubik 6. Gissa Mitt Jobb 7. Spökröster På Konferens 8. Jingelmaskinens Klagan 9. (Det Svänger Liksom Bara) Underbart 10. Ett Människoöde 11. Ärlige Loffe 12. Musik I Kubik 13. Det Våras För Tjejen III 14. Grandmaster Slush 15. Rent-A-Mob 16. Gissa Mitt Jobb 17. Braskväll Med Eldfängda Intelligensaristokrater 18. Dragspelskungen 19. Moderna Tider 20. Steppens Svärson 21. Min Mamma Säger... 22. Hamburgaren 23. En Galen Vetenskapsman 24. En Mycket Galen ..
Michael B. Tretow -film music for Bert - den siste oskulden 1995
A Swedish film that Tretow wrote some music for...This record was released as a soundtrack album on Sonet records with a lot of cool guest stars,but the album is out of print.
Sveriges Radios Symfoniorkester: Overture
E-Type & Nana Hedin: Technopolka
Michael B. Tretow & Olof Johnson: Månadens Kille/Motorsågsmazurka
Henrik Schyffert: Kan Det Va Värt Nåt?
Sveriges Radios Symfoniorkester: Solina
Tommy Körberg: Jag Är Kär
Michael B. Tretow: Psalmonella
Jacob Eklund: Bennys Bossa
Michael B. Tretow: Funky Fido
Johan Rheborg: Sparris Och Bollar
Sveriges Radios Symfoniorkester: Humlesång
Kom Tag Min Hand
Michael B. Tretow: Dagboken
Michael B. Tretow & Olof Johnson: Månadens Kille/Schottischock
Sofia Tretow: Peon-Peon
Lasse Wellander: Solina
Erik Lidwall & Åsa Byström: Tigrar I Afrika
Michael B. Tretow: Duelling Sitars
Anders G. Karlsson & Per Åström: Känn Döden
Michael B. Tretow: Biffar Som Sniffar
Lars Magnusson: Pressenningen
Lasse Wellander: The Grand Master

ABBA-The Tribute April 1999 Various Artists ABBA-A tribute The 25th Anniversary Celebration 1999 Out of print American CD
For once, something ABBA related comes from America. This is a compilation put together by ABBA fan Jeffrey de Hart. The attention to detail shown here is your you clue that that the people who made collection actually new something about ABBA.
It was released on the Relativity label. Released in Mid-1999 around the 25th Anniversary of ABBA's victory at the Eurovision song contest.
The Cd , cassette, and LP versions (yes LP)
of this are all slightly different. The Lp
has remixes of a a few of the tracks .The Cassette has a different track listing,it
has "He Is your Brother by Svenne and Lotta
on it, which the Cd does not have.

This is a much better collection than Polar's contemporanius Swedish ABBA tribute album. Frankly, that is because this includes better known artists. American, German, Irish,Swedish, Taiwanese (CoCo Lee) and British artist are featured here- showing off the the universality of ABBA's appeal. The artists here include Frida & the Real Group, Erasure, Go West, Bananarama, Mike Love (of the Beach Boys), Information Soceity and others. A few of the tracks were borrowed from the Swedish ABBA tribute album called ABBA-THE TRIBUTE.
Unlike other specially recorded all star tributes like
TWO ROOMS (the tribute to the music of Elton John), most of the songs had been released before, but many of the tracks are hard to get .
My favorite tracks here (other than Frida of course) are Evan Dando's minimalist version of "Knowing me, Knowing You" and Peter Cetera's duet with Country singer Ronna Reeves on SOS. (Peter produced Agnetha's I Stand Alone album). Peter comes up with a interesting opening to start the song.
Two tracks are of the most interest to ABBA
fans- firstly , Michael Tretow and his daughter do
a clever version of "Honey Honey' which features small bits of 13 ABBA songs thrown in and secondly, Frida's acappella collorabation with Sweden's The Real Group on "Dancing Queen". This tracks marks the first release of new solo material by Frida on American soil since "Something's Going On". Of course, this track isn't really new it was released in 1994. It's a great jazzzy version of "Dancing Queen." This Cd might have have been a good place to include U2's live concert performance of"Dancing Queen" with B&B . But that track is never going to see the light of day.

The liner notes for this record include a lengthy essay by ABBA expert, Carl Magnus Palm. The essay intersperses comments about the CD tracks with a history of ABBA's troubled history in America. Apparently this album went out of print in 2002 when the licensing agreement ran out on the songs.
Michael B. Tretow -Greatest Hits 2000 Swedish CD
ABBA engineer Michael B. Tretow has had a lengthy if sporadic Swedish music market solo career, much of it in the 1980's . This collection covers 1976 through 1999 and includes a few tracks from his 1976 LET'S BOOGIE album.

The lead track is the cult hit "Hubba Hubba Zoot Zoot" which is by Caramba which featured Micke and Ted Gardestad.
This collection was released by Marie Ledin's record label, Anderson records. Marie is Stig Anderson's daughter.
Track listing:
Hubba hubba zoot zoot/ Tutti Frutti/ Zoltan zulls julhälsning/ Spotnjik/ Sovjetisk modevisning/ Tomtens sommarsång/ Det var bättre förr/, Kortvisa nr. 1/Den makalösa manicken/ Elitgymnasten/ Visste ni? /Höns!/ Apans sång Jinglemaskinens klagan/ Gnällpipan/ Kom ihäg, Trolle e bäst/ Russin/ Grävslok/Brief intermission no.1/ Moonbeams / Children of the night/ Familjen schedblad/ Telefånen /Visste ni?/ Japansk moped!/ Motorsågsmazurka/ Program-jingle/ Jag är kär/ Eldorado americana/ Dr. Gerhards liniment/I läskedrycksaffären/Åby folket park -59, Kvalitetsauktionen/ Walter Lügens,/TV 1 signature
Michael B. Tretow-Snälla Py... 2000 Swedish CD


1. Mjuka Paket
2. Människans Bästa Vän
3. Julias Änglar
4. Ett Eget Liv
5. Jag Hatar
6. Hollywood
7. Lite Snälla
8. Låt Mig Få Sova
9. Ljuvliga Kärlek
10. Snart Är Det Äntligen...
Michael B. Tretow -Trolles Trafikvett/Stopp July 2005 Swedish CD
..Micke resumed his active recording career after having had a stroke in 2001. He made his comeback with not one, but two childrens albums. This is one.....
1.Godda godda godda 2. Trolle är bäst 3. Sagan om de tre trollen bruse 4. Trollena bruses visa 5. Jönssons gård 6. Gnällpipan 7. Godda godda godda 8. Jag är galen (i kex) 9. Dum dum dum 10. Sagan om den stora stygga vargen och de tre små trollen 11. Vargen 12. Om du har någonting i huvudet
Michael B. Tretow -Trolles Trafikvett/Hagarman July 2005 Swedish CD.
This is the other.....
1. Godda godda godda 2. Russin 3. Se var du går 4. Sagan om guldlock och de tre trollen 5. Skogen 6. Raplåt från nylle 7. Godda godda godda 8. Ibland 9. Om du hör något i luften 10. Sagan om en häxa som håller på och dummar sig i skogen 11. Nu är det slut 12. En otäck sång 13. Tutlåt 14. Denna underbara sång 15. Troll
Micke Tretow on video or DVD..
Although I have never seen any music videos of Micke's songs, Micke himself appears in taped interviews about his work with ABBA in at least three videos..
THANK YOU ABBA 1994 French video ..Available on VHS.
One of the first historical video documentaries about ABBA. This was directed by French ABBA chronicler Jean-Marie Potiez (author of ABBA-THE BOOK-) The video is only an hour and is kind of marred by some bizarre cross-cuts between the interviews and the songs. Like ABBA-THE BOOK,The English narration is also badly translated. No new interviews with ABBA members are featured but there are interviews with Michael B. Tretow, Stig Anderson , Rune Soderqvist and ABBA clothes designer Owe Sundstrom. Owe's interview is the most interesting.Stig looks very aged and weary even though he still had three years to live. Among the more fascinating footage are four pre- ABBA's solo songs-(Att Älka Varens Tid, Sunny Girl, Baby Those Are The Rules, Nu Skall Vi Opp Opp Opp) from the 1960's.as well as considerable footage from -ABBA-The Movie. This video does not appear to available on DVD...
.ESSENTIAL STOCKHOLM 1998 Australian Video release
This is a remarkably detailed video put together by an Australian production company-Northern Lights,
This is largely a travel video-that shows every conceivable ABBA related place in the Stockholm area.
The video also works simply as a video travel guide to Stockholm. I wish I had this video before I went to Stockholm.!
The video is narrated by an Australian fan and features an interview with Michael B. Tretow. Whoever researched this knew a lot about ABBA. The video is extremely well researched and presented . Like many travel videos this can be a little dull...However the video is spiced up by the inclusion of lots of ABBA footage-much of rare and obscure.
Among the rare footage is Frida's first tv performance -"En ledig dag 'and a rare Agnetha live performance of "Dom har glömt " .
This video is available from the ABBF Record Service.
THE WINNER TAKES IT ALL 1999 Swedish/British video production InternationalTv special /VHS/DVD
Chris Hunt's intelligent TV documentary was produced with the cooperation of the members of ABBA and thus features some surprisingly candid exclusive interviews with Frida, Benny and Bjorn. ABBA engineer Micke Tretwo is also interviewed .... As a whole the documentary is quite good-though one could do without some of the reverent testimonials. One also could do with less promotional material for the musical- MAMMA Mia. Another disappointment is Agnetha's appearances which are merely her reading from her biography-"As I Am". The documentary includes snippets of a number of rare ABBA tracks and performances.
There are number of interesting moments on this special by my favorite is when they show an aerial view of the Stockholm Archiplego coupled with an instrumental piano solo by Benny.
This was released throughout the world as a broadcast TV documentary. Interestingly, different edits were used in different countries. This documentary is available on VHS video in most places and on DVD in some places.
Please eat your lunch -don't make me have to eat it for you!!!!

MONTIEF'S HANDY GUIDE TO ABBA THE ALBUMS!!!
ABBA THE ALBUMS -SITE INDEX -REVIEWS OF ALBUMS SORTED BY ARTIST
ABBA THE ALBUMS - GROUP & SOLO ALBUM REVIEWS LISTED IN ODER OF YEAR OF RELEASE
Chart revised July 2006 by Montief
Powered by bababloo mandel and his gang of nigerian gypsy frankfurters the kind that achieve prominence in the ying and yang of herb albert or marv albert or was it merv griffin and know that all is all and glad is glad and on and on and on...
and that somewhere and someway and soonie and moonie and joonie petunia so sooner rather than later and alakazam and zipidedoo ha ha you yoy,,