Not all ABBA releases are as inane as ABBA Gold....There are some ABBA related releases out there in the magical land of ABBAdom that would surprise and amaze you...On some of these albums we find Benny recording birds , Agnetha recording in German, Bjorn wears a wig and Frida singing in French,.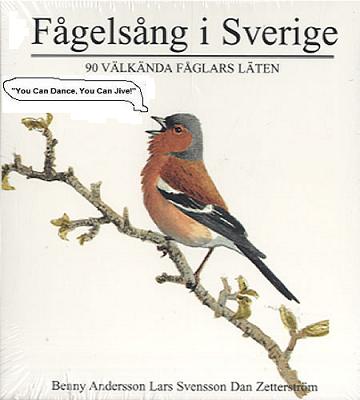 Fagelsang i Sverige- Available on Swedish Cd 1990 Swedish Cd.

Benny produced this collection of 90 Swedish birdsongs, yes that's right 90 birds recorded outdoors. Lars Svensson wrote the text and helped compile the album and Dan Zetterstrom drew the pictures.


A boy , Benny's son Ludvig, states each of the birds names
on the CD in between the birdsongs.There were two editions of this recording. The deluxe version includes a detailed booklet with drawings of the birds and the cheap version that has just the CD and a two page booklet. Released by Benny's label , MONO.

This often is labeled as a Benny solo album but strictly speaking it is not. There is no music played or sung by humans on this album! I wll spare you a list of the the ninety plus birds recorded.
Hootenanny Singers-Bellmann Pa Va Sart 1968 Available on Swedish Cd

Our boyz our on the cover decked out in 1700's garb. Björn has a mustache and is holding a wooden flute. Hansi is sharing a cocktail with Johan.
When we read the liner notes we find all
the songs have long titles and references to
to numbered epistles. Whatz up! Well our boyz
are paying homage to Swedish poet/musician Carl Michael Bellmann (1740-1795). The album's title means-" Bellmann our way".

Bellmann's classic work was the Fredman's Epistlar published in 1790 .It's 82 songs tell the story of a middle class hard drinking clockmaker in a style that originally parodies the Pauline epistles. All of the songs here are adaptions of Bellmann songs .The boyz had to shorten many of the texts.

It's not clear where the impetus for this
project came. Obscure Hootz albums are not the kind of thing you hear about in ABBA interviews. This comes dangerously close to being a concept album... . Though, the group during it's career often focused on the repretoires of various Swedes.
The first track on the album ,"Maltidssang" ,was a mild Swedish hit for the boyz. This is obviously
a less pop sounding album but the boys strident harmony singing sounds the same as it always has. Interestingly , there are some short orchestral bits thrown in here and there that were arranged by S.O. Walldorf. Walldorf would also do string arrangements for Agnetha's solo albums and ABBA themselves.

This album was recorded at Metronome Studios in Stockholm and co-engineered by Michael Tretow. This is the earliest of the the Hootz studio albums to be available on Cd. This is the only Hootz studio album from the 1960's available on Cd. It was released on CD in 1992.

SIDE A

.Måltidssång
Rörande Kortspelet På Klubben/
Angående Ulla Winblads Lustresa Till Första
Torpet Utom Ka/ttrumpstullen /
Till Lokatten
Till Gumman På Thermopolium /
Boreale Och Hennes Jungfrur

SIDE B

Aftonkväde /Nota Bene /
Till Fader Berg Rörande Fiolen /
Till En Och Var Av Systrarna, Men Enkannerlingen Till Ulla Winblad /
Varuti Avmålas Ulla Winblads Hemresa Från Hessingen I Mälaren En Summarmorgon 1769/
Klingar Väl Vid Flöjttraver/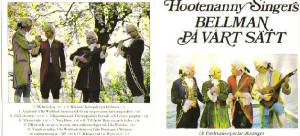 Nils Landgren & Funk Unit -Funky ABBA Swedish CD

ABBA and the word funky- I just dont know....but it kinda works. This album by Swedish trombonist Nils Landgren, and his Funk Unit was coproduced /and coproformed by John Coltranes' son Magnum Coltrane Price. Nils Landgren is known to ABBA fans for his work playing on the "Voulez-Vous' album..Some of the singing on the album is done by female guest vocalists..

The Funk unit includes Henrik Janson who played with Gemini and ABBA drummer Per Lindvall plays on one track.

The album is sort of jazz/funk fusion-and it works surprisingly well-it's rare to hear covers that bring out the high quality of ABBA songs. This works because it doesnt' sound at all like ABBA. But still I'm not sure I'd recommend unless you are open to jazz or are open to rap/funk...

This album features Benny Andersson playing piano on one track-a version of "When All is Said and Done. which features vocalist Viktoria Tolstoy. This is a good track-put that on a Benny compilation album, please! The track is similiar to the Annie Sofie Otter version of "Like an Angel Passing Through My Room" which Benny also guested on piano for..Both songs are stripped down versions of tracks orginally sung by Frida on THE VISITORS.... .

A British reader ,Mike Auber, gives this quick review-"The funky arrangements go
together quite well with tracks like "Name Of The Game", "Gimme Gimme
Gimme" and "Voulez-Vous". But even if you don't like jazz trombone or
rapping, Benny's unaccompanied piano/vocal version of "When All Is Said
And Done" melts the heart".

Track listing:Money, Money, Money /Knowing Me, Knowing You/Voulez-Vous
Thank You For The Music / Super Trouper /Summer Night City /Gimme! Gimme! Gimme!
The Name Of The Game/ Dancing Queen /Take A Chance On Me/SOS/When All Is Said And Done
Agnetha Fältskog-Geh Mit Gott 1994 hard to find but Available on German Cd

Although it's is not widely known , Agnetha
apparently attempted to break into the West
German record markert particularly in 1968-1970.
She was aided in this attempt by her then
boyfriend ,Dieter Zimmerman (no relation
to Bob Dylan- but you knew that).
Agnetha's next boyfriend ( a guy named Bjorn) would prove
to be a bit more up to the task of breaking
Agnetha on the International markert.


Aggie released 8 singles for the German markert. All of which were actually recorded in German. She was not successful and gave up recording in German in 1972,by which time ABBA was about to break into the German markert. No album was released at the time, but in 1994 this compilation of the German tracks was put together by ROYAL RECORDS of the German tracks,. The title track is a German version of the Joan Baez song-"Here's To You'.
Track listing for GEH MITT GOTT
Robinson Crusoe
Sonny Boy
Señor Gonzales
Mein schönster Tag
Concerto D'Amore
Wie der Wind
Wer schreibt heut' noch Liebesbriefe
Das Fest der Pompadour
Fragezeichen mag ich nicht
Wie der nächste Autobus
Ein kleiner Mann in einer Flasche
Ich suchte Liebe bei dir
Geh' mit Gott
Tausend Wunder
Komm doch zu mir
Ich denk' an dich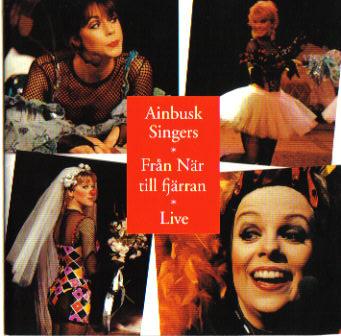 Ainbusk Singers -FRAN NAR TILL FJARRAN 1993 Available on Swedish CD. Produced by Benny Andersson

Benny Andersson first saw Ainbusk ,a Swedish the singing/ theatrical quartet in the late 1980's. By 1992 Benny would produce this CD and cowrite three of the songs with Marie Nilson. Ainbusk's resident comedian and pianist. (Björn had no involvement!). The three songs Benny cowrote are "Drommarnas Golv", "Alska Mej " and "Jag mötte Lassie".
"Lassie" was a Swedish hit. And yes, "Lassie is a song about a dog!

All four of the ladies of Ainbusk members sing: most notably Josefin Nilsson, who would record her solo debut ,SHAPES, album under Benny's direction.
Josefin shows off her vocal chops on "Lover Man", and "Alska Mej".

The other three members names are Birgitta Jakobsson, Marie Nilsson and Annelie Roswall.
The Cd booklet has some interesting photos
of the ladies dressed up in strange costumes.


This album was drawn primarily from one of Ainbusk's highly theatrical Swedish stage shows-"Ainbusk jubileumsshow". (Ainbusk's jubilee show). Apparently, some of the songs date from a couple years before. "Lassie' was released as a very successful single in October 1990, and "Alska Mej" was released as a single in April 1991. These songs were released on singles originally in different versions than the ones found here.

Although most of the songs are in Swedish this is a very entertaining album, even the songs not written by Benny are worthwhile, largely due to Ainbusk's innate charm.
This album was released on Benny's Mono label. Björn and the ABBA band have no involvement on this album.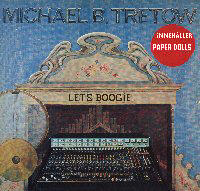 Michael B. Tretow -LET'S BOOGIE 1976 (Released on CD January 1999)

Long out of print rerelease of this humourous album by ABBA engineer and resident comedian, This album is famous for featuring all of the members of ABBA and their band in the roles
of sideman to the incredibly silly -Michael B. Tretow. This is a funny album.

The albums' title implies that this is a disco album but it's not-it's an album of humourous novelty/ songs inspired by singers like the Coasters. Agnetha, Björn , Benny and the Abba band play on this album and Agnetha, Frida and Karin Glenmark sing backing vocals, . Of the tracks -Paper Dolls sounds the most like actual normal song...."Robot Man' has some cool backing vocals by Frida, Karin Glenmark and Marita Horn.. "Moonbeams" actually features Agnetha on piano..

The album's main flaw is that Micke
doesn't have a great singing voice, and sometimes his great backing vocalists are not fully utilized.

This would have been a more listenable album if Micke had Agnetha & Frida, hell, even Björn sing lead on a few of the songs, but the backing vocal are still quite interesting and Micke leads are usually funny... Until it's recent and much belated release on Cd , this album had been one of the rarer and most interesting ABBA collectibles..

Hey Micke, What's the B stand for anyway??? ((Addendum-somebody wrote in to inform me that the B. stands for Bo.)


This was originally released on Lp in 1976 in Scandinavia and Britain. It appears that the CD maybe out of print already.

Lets Boogie* / Paper Dolls / Robot Man / Bottom Coming Up / Brief Intermission / Moonbeams / I Can See What You Mean / That's the Way the Cookie Crumbles / Sandwich / Hesitating Hanna / Brief Intermisson / Keep Your Hands to Yourself / Doc McGurgles etc. / Buy Buy Buy* / He Can´t Sing/

*Bonus previously unreleased tracks...
Various Artists-(concept album)-ABBACADABRA- 1983 French Lp and two later English singles. Reissued on a french CD in 1994 ,but again out of print.



French Lp and CD cover


This was the first" musical" based on B&B music. B&B were not directly involved but they helped with two songs on the English version of this. There were French and English versions of this
musical, the French version was recorded for
an album . the British version was staged on
the West End. Neither version was overly successful, partly since ABBACADABRA came at time when interesti n ABBA was at all-time low...

The idea here was to borrow the melodies from ABBA songs and write new lyrics so as be able to tell a story and also so as to be able to do it in French. (this was a French/Belgian coproduction).


Although the French version was not staged , a TV show and
a Concept album were produced and released
in 1983. (Produced by Alain Boublil of MISS
SAIGON fame). Frida was involved ,she played
a Princess and sung a duet with Daniel Balavoine
called "Belle.'

On December * of 1983 , premiered at London's
Lyric Theater. This was an English language version. This production was produced by Cameron Macintosh. The British version however,
apparently did not result in another album ,
but at least two singles were released.
One of the singles included Frida's duet
with B.A. Robertson on "Time" ,The b-side
of that single featured B.A Robertson doing
"I am the Seeker" which was a B&B song that
ABBA considered but never recorded, The other
single featured Elaine Paige doing a rewritten
version of "My Love , My Life called "Like
an Image Passing Me By" . Oddly, the new lyrics
for this one were cowritten by Björn.
Apparently, B&B never saw the play-which seems bizarre. considering how times Bjorn has sat through MAMMA MIA. Supposedly the French version of this was reissued on CD in 1994.

Sadly, I don't have this album, it 's not easily
available. I saw this album in Germany many years ago, but I didn't have the money for it-so I didn't bother getting it-("oh I'll see that again") and I haven't seen it since!
Track listing side A

Qu'est-Cc QueJ'vais Faire Plus Tard (When I Kissed The Teacher)
Deliveres (The Visitors)
Abbacadabra (Take A Chance On Me)
Mon Nez Mon Nez (Money, Money, Money)
.Tete D'Allumette (Super Trouper)
Imagine-Moi [I Wonder (Departure)]

Track listing side b

Carabosse Super Show (Dancing Queen)
Pareils Et Memes(I Let The Music Speak)
L'enfant Do (Fernando)
\Lachez Mes Cassettes (I`m A Marionette)
Belle Belle(Arrival)
Envoyez Le Generique(Thank You For The Music)
THE BRITISH Staging

FULL LIST OF TITLES OF SONGS PRESENTED IN THE BRITISH STAGING....(no official album released, the full version available only on a bootleg made of the the stage show)

IT'S ANOTHER WORLD (take a chance on me
BATTLE OF THE BROOMS (money, money, money)
*I AM THE SEEKER
I CAN PULL SOME STRINGS (The piper)
GOING GOING GOING (On and On and On )
MAKING MAGIC (super trouper )
*WHEN DREAMERS CLOSE THEIR EYES (like an angel passing through my room
BELONGING

BACK HOME NOW (fernando)
CARABOSSE SUPERSHOW (dancing queen)
THINK OF SOMETHING FAST (I'm an Marionette)
*TIME (arrival)
*LIKE aN IMAGE PASSING BY (my love my life)
THANK YOU FOR THE MAGIC (Thank You For The Music)
*songs released on singles....