The Hep Stars -Jul med Hep Stars 1967 Swedish Lp 2001 Swedish CD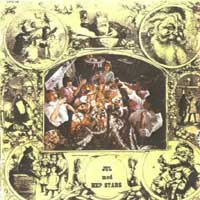 Christmas with the Hep Stars( Benny's pre ABBA day job) Festive, no doubt.
Haven't seen the original version of this one,it's somewhat rare.
The original album has talking in between some of the songs.
This album was reissued on CD for Christmas 2001.It has been reissued with a new track listing that includes a couple of previously unreleased tracks as well as the omission of some 3 of the lesser tracks.The CD opens with "Christmas On My Mind" a fairly good song that's also on the HEP STARS 1964-69 Cd. This album also includes, "Nu tandas tusen juleljus" and a humourous version of "Jingle Bells". Other new songs include "Christmas Today".

The Swedish Christmas standard "Nu Tandas tusen julejus" would be later done by Björn's Hootenanny Singers and Agnetha & Linda Fältskog. It is the only song I believe to have been recorded by three different ABBA solo acts.
Track listing-original Lp

Nu är det jul igen
Dialogue
Christmas today
Dialogue
Alla sover uton jag
White Christmas
Johanssons boogie woogie vals (Instrumental)
Dialogue
Jingle Bells
Hej Tomtegubbar
Dialogue
Christmas on my mind
Dialogue

The boy that Santa forgot
Gläns över sjö och strand
Nu tändas tusen juleljus
Stilla natt(Instrumental
Dotter Sion (Instrumental)


1. Christmas On My Mind
2. Pojken Som Jultomten Glömde
3. White Christmas
4. Alla Sover Utom Jag
5. Jingle Bells
6. Christmas Today
7. Good King Wencelas (previously unreleased)

8. The Boy That Old Santa Forgot
9. Det Strålar En Stjärna (previously unreleased)
10. Gläns Över Sjö Och Strand
11. Nu Tändas Tusen Juleljus
12. Stilla Natt
13. Dotter Sion
Hootenanny Singers-Fem Ar- Late 1968 Out of print Swedish Lp

This hard to find by album by Bjorn and boys includes the Hootz version of the old Harry Belafonte favorite- "Mary's Boy's Child" which qualifies as a Christmas song -,thus this obscure album is listed here, but there is no other Christmas content on this album.

The album title translates to Five Years-I have also seen the title listed as Fave Ar. The Hootz had been together five years. This features a very strangely recorded Swedish cover of the Turtles hit-"Elenore" .( Well I suppose this version of "Elenore" is not that strange since weird effects & phased guitars were normal in the pschedelic era.) This album also features Björn 's solo 45 version of Harper Valley PTA called "Froken Fredriksson" and it's B-side, VÅR EGEN SÅNG

On this album the Hootz do a Kingston Trio song . "Greenback dollar' -the Hootz were continuing
to draw on folk sources for the majority of their
material even though Björn still yearned for a international rock/pop career. But the Hootenanny's cut back on their efforts in the English language at this point.

SIDE A

FRÖKEN FREDRIKSSON
MARY'S BOY CHILD
ELEONOR
SÅ LÄNGE JAG LEVER
GREENBACK DOLLAR
VÅR EGEN SÅNG

SIDE B

FÅFÄNGANS MARKNAD
DEN SOM LEVER FÅR SE A Banda
MAMMA, PAPPA OCH BARN
DU DANSAR OM SOMMAR'N
RO MEJ, TRO MEJ
LOVE COMES, LOVE GOES

Polar's 1972 Christmas album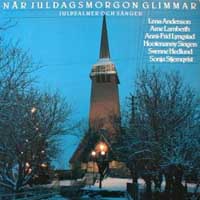 Various Artists-När Juldagsmorgon Glimmar 1972 Swedish Lp

Polar's 1972 Christmas music album had two tracks each by by Annifrid Lyngstad, Lena Anderson,Svenne Hudlund, trumpeter Arne Lambert, Sonja Stjernqvist and the Hootenanny Singers .The title of the album translates to "When Christmas Morning Is Shining".

The Hootz do versions of "Gå Sion, din Konung att möta" and "Nu Tandas Tusen Juleljus".Frida does "Nar det lider mot jul( When Christmas Is Coming") and "Glans over sjo och strand". All of the tracks were recorded in 1972.

The original Lp (which has a wintery picture of a church on the cover ) is no longer available,
but this album was reissued in tandem with Agnetha and L inda's Christmas album on the 1994 Polar CD -JULENS MUSIK.

THIS is a really enjoyable Christmas album. Highlights include Lena Andersson's version's of "Silent Night",and Svenne Hedlund's version of "Dotter Sion, frojda Dig" which has some fantastic church organ on it (by Benny perhaps?).

This album was produced by Stig, Benny and Bjorn.The reissue JULENS MUSIK is the closest thing we have to an ABBA Christmas album. (ABBA never recorded any Christmas music).

Stilla Natt - Lena Andersson
Nu Tändas Tusen Juleljus - Hootenanny Singers
När Det Lider Mot Jul - Anni-Frid Lyngstad
Dotter Sion, Fröjda Dig- Svenne Hedlund
O Du Saliga - Sonja Stjernqvist
Gläns Över Sjö Och Strand - Anni-Frid Lyngstad
När Juldagsmorgon Glimmar - Svenne Hedlund
Bereden Väg För Herran - Arne Lamberth
Hosianna - Sonja Stjernqvist
Gå Sion, Din Konung Att Möta- Hootenanny Singers
Härlig Är Jorden - Lena Andersson
Var Hälsad Sköna Morgonstund - Arne Lamberth

ABBA-Super Trouper 1980 International release, Reissued on Cd numerous times

This ABBA studio album includes the lovely B&B song "Happy New Year" which is not about Christmas but hey it's about New Years Day which is about a week later... "Happy New Year" was also released as a milennium single in late 1999 in some territories..
Yes, she can sing she's my daughter!

Agnetha and Linda - NU TANDAS TUSEN JULEJUS October 1981, 2005 Swedish CD's

This album was actually recorded in late 1980, but held back for release till Fall 1981 It reached # 6 on the Swedish charts. It was

The title track is a Swedish Christmas standard,which means in English "-A thousand Candles Are being lit". Agnetha, Linda and a choir of children sang the vocals for this Swedish language Christmas album. Michael B .Tretow engineered-note how he speeds up the children's voices on occasion. Some of the ABBA band play on this album. The main drawback of the album is that Agnetha only sings some of the time.

Though this album is considerably more listenable then Aggie's later album with her son, Christian, it remains a non-essential album for non-Swedish fans. The best thing about the album is the cover. It quite literally portrays Agnetha and her daughter surrounded by good percentage of the 1000 candles that are referred to in the title. Agnetha looks like a Angel. This CD was released by Polar in 1987. The original album came out while ABBA still existed.


In 1994 this album was re- issued in tandem with a 1972 Polar Christmas LP on a Swedish CD called JULENS MUSIK. listed below .But it was remastered in 2005 in a separate release, and the 2005 version is the one most easily obtainable today,

It is of interest to note that this was Agnetha's eighth solo release, and all of her albums up to this point had been released in the late Fall.

1.Nej se det snöar - 0:56 (Agnetha and Linda)

2.Bjällerklang - 2:34 (Agnetha and Linda)

3.Nu tändas tusen juleljus - 2:39 (Agnetha and Linda)

4.Två små röda luvor - 2:46 (Agnetha and Linda)

5.Nu står jul vid snöig port -2:31 (all)

6.Jag såg mamma kyssa tomten - 2:27 (Linda)

7.När juldagsmorgon glimmar - 2:27 (Agnetha and Linda)

8.Potpurri - 6:12 (Agnetha and Linda)

a.Nu har vi ljus här i vårt hus - 0:48 .

b.Tre små pepparkaksgubbar - 0:49

c.Räven raskar över isen - 0:54

d.Vi äro musikanter - 0:57

e.Hej tomtegubbar - 0:47

f.Jungfru jungfru kär – 1.13

g.Nu är det jul igen - 0:44

9..Hej mitt vinterland - 2:29 (Britt Lindeborg and Linda)

10.Så milt lyser stjärnan - 2:27 (Linda)

11.Mössens julafton - 2:25 (Agnetha and Linda)

12.När det lider mot jul - 2:33 (all)

VARIOUS ARTISTS-Polarator Late 1988 Promotional Lp

This is was hard to find red LP issued by Stig. Polar label , which had previously released Christmas tracks on it. it is is a rarity..It was issued by a Swedish furniture? company called Polarator. It has ABBA's "Happy New Year' and some of the ABBA girls Christmas solo tracks....
Side A
Krister St.Hill-Nu Tandas Tusen Juleljus
Krister St.Hill-Nar Juldagsmorgon Glimmar
Krister St.Hill-Hosianna
sylvia Lindenstrand-Stilla Nact
Agnetha Faltskog-Sa Milt Lyser Stjarnan
Ann-Frid Lyngstad-NAr Det Lider Mot Jul
Ann-Frid Lyngstad-Glans Over Sjo Och Strand

Side B
Agnetha and Linda Faltskog-Nu Har Vi Ljus Har I
Agnetha and Linda Faltskog-Tre Sma Pepparkaksgubba
Agnetha and Linda Faltskog-Raven Raskar Over Isen
Agnetha and Linda Faltskog-Vi Aro Musikanter
Agnetha and Linda Faltskog-Hej Tomtegummar
Agnetha and Linda Faltskog-Jungfru Jungfru Kar
Agnetha and Linda Faltskog-Nu Ar Det Jul igen
Agnetha and Linda Faltskog-Hej Mitt Vinterland
Agnetha and Linda Faltskog-Mossens Julafton
ABBA- Happy New Year

 
ABBA- Nu ar det jul igen ( The Xmas Album ) Bootleg CD unknown orgin or date…
One of three or four ABBA bootlegs that have featured ABBA related Christmas music. This CD supposedly includes a never released 1974?or 1980? German radio recording of ABBA singing. "Nu ar det jul igen" -whichin English means "Now it's Christmas, Again"is a Swedish Christmas standard. . This CD also includes a version of the same song sung by Benny's old band ,the Hep stars. I "Nu ar det jul igen" is not widely bootlegged perhaps because it is just a short impromptu recording,. The other rarities here are various Christmas greetings by members of ABBA. But most of the tracks on this particular CD are available on official if sometimes out of print CD's
.
1. Xmas greetings from ABBA
2. Nu ar det jul igen - ABBA
3. Nu tandas tusen juleljus - Agnetha och Linda
4. Snon faller och vi med den - Agnetha och Ulf
5. Xmas Greetings from Agnetha
6. Nar det lider mot jul - Frida
7. Glans over sjo och strand - Frida
8. Xmas Greetings from Frida
9. Nu tandas tusen juleljus - Hootenanny Singers
10. Ga Sion, din konung att motta - Hootenanny Singers
11. Xmas Greetings from ABBA
12. Nu ar det jul igen - Hep Stars
13. Christmas Today - Hep Stars
14. Jingle Bells - Hep Stars
15. Christmas On My Mind - Hep Stars
16. Glans over sjo och strand / Nu tandas tusen juleljus - Hep Stars
17. Xmas Greetings from ABBA
18. Happy New Year (Special Xmas greetings intro) - ABBA
19. Nu ar det jul igen (Reprise) - ABBA
20. Santa Claus Is Coming To Town (Trallar blandar) - Bjorn Again
21. Little Drummer Boy (Full Version) - Bjorn Again
Various Artists -Julens Musik 1994 Swedish CD (officially referred to as STIKKAN ANDERSON VALJER POLARSPARLOR-JULENS MUSIK)

This CD released by Polar couples Agnetha & Linda's NU TANDAS
TUSEN JULEJUS 1980 Christmas album with Polar's 1972 Christmas LP called NAR JULDAGSMORGAN GLIMMAR which has Christmas songs by various Polar artists. The second part of the CD is more interesting to me.

Polar's 1972 Christmas music album had tracks by Annifrid Lyngstad, Lena Anderson,Svenne Hudlund,Arne Lambert,Sonja Stjernqvist and the Hootenanny Singers .The Hootz do "Gå Sion, din Konung att möta" and "Nu Tandas Tusen Juleljus" . The songs Frida does here are "Nar Det Lider Mot" and "Glans Over Sjo Och Strand" The original Lp is no longer available, NAR JULDAGSMORGAN GLIMMAR is easily better part of the JULENS MUSIK collection.
JULENS MUSIK is the closest thing we have to an ABBA Christmas album. (ABBA never recorded any Christmas music).

TRACK LISTING-JULENS MUSIK

Nej se dat snöar/Bjällerklang/ Nu tändas tusen juleljus/ Två små röda luvor/ Nu står jul vid snöig port/ Jag såg mamma kyssa tomten/ När juldagsmorgen glimmar/ Potpurri/ Mej mitt vinterland/ Så mitt lyser stjärnan/ Mössens julafton/ När det lider mot jul-AGNETHA & LINDA

Stilla Natt - Lena Andersson
Nu Tändas Tusen Juleljus - Hootenanny Singers
När Det Lider Mot Jul - Anni-Frid Lyngstad
Dotter Sion, Fröjda Dig- Svenne Hedlund
O Du Saliga - Sonja Stjernqvist
Gläns Över Sjö Och Strand - Anni-Frid Lyngstad
När Juldagsmorgon Glimmar - Svenne Hedlund
Bereden Väg För Herran - Arne Lamberth
Hosianna - Sonja Stjernqvist
Gå Sion, Din Konung Att Möta- Hootenanny Singers
Härlig Är Jorden - Lena Andersson
Var Hälsad Sköna Morgonstund - Arne Lamberth

Various Artists Ljuva svenska jul 2004 Swedish CD

This is a recent Swedish compilation of Christmas tracks... it includes two songs found on Julens Musik..(Frida's När Det Lider Mot Jul and Agnetha & Linda's När Juldagsmorgon Glimmar ) Agnetha & Linda Probably , Of more interest are most recent Christmas songs by various ABBA friends-Ainbusk, Tommy Korborg, Peter Joback and the Real Group..

Ljuva svenska jul track listing

Gläns Över Sjö Och Strand - Carola
Jul, Jul Strålande Jul - Peter Jöback
Stilla Natt - Sissel Kyrkjebö
O Helga Natt - Tommy Körberg & Oslo Gospel Choir
Nu Står Jul Vid Snöig Port
Önska Dig En Stilla Natt - Bo Kaspers Orkester
En Julsaga - Ainbusk
Tomten Kommer Snart - Jerry Williams
Hej Mitt Vinterland - Magnus Johansson
Ser Du Stjärnan I Det Blå - Christer Sjögren
Jag Drömmer Om En Jul Hemma - Charlotte Nilsson
När En Stjärna Faller - Magnus Carlsson
Låt Mig Få Tända Ett Ljus - Siv Pettersson
I Vår Vackra Vintervärld - Joybells & Sten Nilsson
Ding Dong Hör I Höjd - Sofia Källgren
Gammal Fäbodpsalm - Lars Roos
När Det Lider Mot Jul - Anni-Frid Lyngstad

Nu Tändas Tusen Juleljus - Mikael Samuelsson
Det Är En Ros Utsprungen - The Real Group
När Juldagsmorgon Glimmar - Agnetha & Linda

The Rivals- "Merry Christmas, My Friend" , Promotional Video, December 2, 2010 and Various Artists-Carols For A Cure - Volume 13 CDH060-11, 2CD American release, November 2011 and ABBA Happy New Year Vinyll single, November 30, 2011

Benny and Bjorn wrote this song to promote the Hotel Rival during the 2010 Christmas Season.
It's the first Christmas song that they have written as a team. However , Benny did a write Christmas ring tone for the Swedish Red Cross a couple of years ago. The song is a little awkward written, not particularly anything to write home about. The employees on the video don't seem particularly enthusiastic, but that may just be a Swedish thing. In any case, the song and video for "Second to No One", the previous Hotel Rival music project, was substantially better. This has not been released as physical single, not sure whether it is downloadable as a MP3. -I am going to slip this info about Concert for the Cure, even though it's not properly formatted below. Various Artists-Carols For A Cure - Volume 13 CDH060-11, 2CD American release, November 2011 Broadway Cares, offers their 13th annual collection of Christmas recordings as performed by the casts of various Broadway shows, entitled Carols For A Cure - Volume 13. The cast of Mamma Mia! is featured on 'Hark! The Herald Angels Sing'. the Mamma Mia! cast performance is preceded by ABBA's brief recording of the Swedish Christmas song 'Nu är det jul igen', as originally broadcast on the West German radio show Mal Sondock's Hitparade in 1981. This marks the first legal CD release of this ABBA recording,Although truth be told, it's nothing special. Other Celebrity guests on this album include Daniel Radcliffe, Martha Wash, Kara DioGuardi, Roger Rees, Reeve Carney, Montego Glover, Chad Kimball, Hugh Panaro and Daniel Rodriguez, among others. ABBA-Happy New Year This is 500 copy limited edition of ABBA's 1980 holiday song, "Happy New Year" . The B-side has "The Way Old Friends Do",. This record was only available from the ABBF fan club site and from the official ABBA site. The release pre-sold out in a day. Pretty good for a outmoded format with a couple of songs every ABBA fan already has. Happy New Year had been previously released as a single in 2000 by both ABBA and the A*Teens to coincide with the millennium. In May 2011, a restored 1980 promo video for "Happy New Year" was featured on the ABBA-Super Trouper Deluxe Edition CD/DVD.

P>--Benny Andersson Orkester-Tomten Har akt Hem, Mono November 28, 2012 Swedish CD/Download

, In November 2012. Benny Andersson's Orkerster is released a Christmas album... The album is in Swedish The album will be called "Tomten Har akt hem (Santa has come home).There are four new compositions on the album. A few of songs here have been recorded by other ABBA related acts. "Vinterhamn" was released as the single from the album. The album is also available as part of the new BAO in Box box set..

Track listing:.Marsch Militaire / Tomten har åkt hem / Julvals / Tomtestomp / Knalle Juls vals / Tomtarnas vaktparad / Vinterhamn / Mössens julafton (När nätterna blir långa) / Trettondagspolkan / Julpotpurri / Nu tändas tusen juleljus

MERRY CHRISTMAS, whatever the Season, And Remember Jesus is a really cool guy, who just might help you out of jam!!! Except on Tuesdays, that's his day off..

ABBA THE ALBUMS -SITE INDEX -REVIEWS OF ALBUMS SORTED BY ARTIST
ABBA THE ALBUMS - GROUP & SOLO ALBUM REVIEWS LISTED IN ODER OF YEAR OF RELEASE